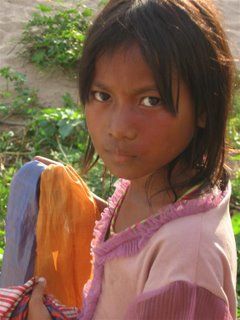 PHNOM PENH - When I heard we were visiting a silk village as part of the Mekong River tour organized by our very hospitable Cambodian colleagues, I had thought it would be quite commercialized a la Thailand. But it turned out to be a bona fide village - with chickens, mud roads, and very very poor.
There was a 6-year-old girl (along with 20 other women and girls) who followed us the whole way to the local roofless temple, trying to sell me a scarf for US$1. I didn't buy initially because I was in no particular need for scarfs and most of all, because I was so plagued by dilemma - I didn't know who to buy from, which woman's / girl's need was greatest, who to help.
The women and girls followed us as we walked through the village. We soon came to the roofless temple. As I closed my eyes in prayers, it dawned on me that I could not just pray and do nothing. I looked down at the mud road. Two pairs of feet struck me. They belonged to a shoeless 6-year-old girl and a clubfooted pregnant woman. I bought a scarf from each of them.
Heartbreaking as Phnom Penh was, it still held alot of charm for me. I found an abundance of grounds-up social projects there - a free reading library run by a French woman, postcards at the Russian markets painted by disabled artists, a wonderful garden restaurant (*excellent* food and extremely value-for-money) called Bodhi Tree that hired youths at risk...
It will be nice to do something like that one day.