2007 being his year of the golden pig, Mr M decided to throw a birthday celebration for all to remember.
After a dinner party at his very nice home (food was catered from an Italian restaurant, complete with a waiter on hand to serve wine) , the 20+ of us guests hopped into the 2 stretch limousines that the unbelievably generous Mr M had chartered to take us to our favourite Glamour Bar on the bund. Sipping champagne the entire way, it was a leisurely and rowdy ride in style through the busiest street of town...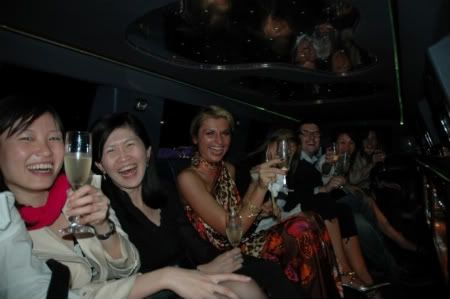 This, we decided amidst boisterous chatter, was celebrity.
At Glamour, champagne (yes, more) and cake were waiting and the whole night was peppered with The Three Tenors (his goods friends) bursting into birthday songs spontaneously at least 20 times. And of course such a night could not just end at one location. A little past midnight, we left Glamour in style again in the limos for more inebriated dancing at Attica further down the bund...
This, I decided with absolute clarity at 1.30 am on a Thursday night (after 7 glasses at that), is a birthday I shall have to match. Preferably before but certainly no later than 36 years young!