ZURICH - The best things in life are often stumbled upon. Take Honold for instance. It was a tea room I darted into to gain some respite from the cold. It turned out to be a charming place where Zurichians spend their Saturday mornings with children and dogs. (Indeed the Swiss love their dogs - the abundance of them at the airport!)
First day in Zurich and I am beginning to think that the etymology of the word 'picturesque' is Swiss in origin. Especially in the Old City, there is so much to discover. I walked almost 4 hours at one go today depsite the cold and my high-heel boots. Every time my legs signalled stopping somewhere, my eyes insisted on pressing on even as they saw the storm clouds and the temperatmental drizzles of fall. So much to stumble upon. Look at this charming shopping alley, that little boy with blond tussled hair... Listen to the sound of the German language, those footsteps of the rain breeze... My aging Fuijicam, lethargic from the cold, clicked on.
By the time I hit a natural stop - the Zurich lake, it was 4 hours. Voila! There is a flea market. Clothes, piles of postcards, phonecards, old records, jewellery, china, German philosophy books (is it only in Europe that there is enough critical cultural mass to constitute a demand for philosophy books?) , conch shells, dolls in prams, a stuffed elephant sitting on a four-hob full-size gas cooker(!)...
I decided to take a lake cruise. 5.40 francs for 1.5 hours. By far the cheapest thing I have come across in Zurich.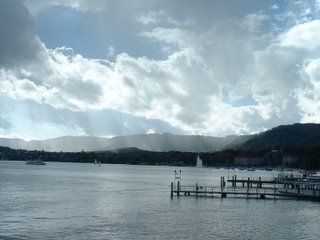 Sitting on the deck of the water taxi, you start to wonder: can there be
anything
more peaceful than this? To wish for more would seem like an intolerable sin of greed. Everything is peacefully gentle here. Fathers and sons fish at the pier, toodlers watch in awe the swans swimming in the lake, Swiss houses await their occupants to return home... Even the engine of the water taxi is afraid to hum aloud. You can hear the lapping of the water and the flapping of the gull's wings. (Even with my bad hearing.) If not for it, I would probably be able to hear the breeze blowing past the Swiss Alps that embraces the lake all around.
As I sat on the deck sipping a cup of earl grey my fellow passenger kindly bought me, I thought: it must be easy to attain nirvana here. If one could not even attain enlightenment in this cool weather and tranquility, what more in the fly-swatting hot weather of India...?
Post-script: Unfortunately, Swiss tranquility began to end in the supermarket where annoyed samsaric cashiers took over. There, I realized that 'tsk' was a universal sound, even in nirvana land!