Glamour Bar is without a doubt my favourite bar in Shanghai - in part due to its gorgeous Bund location but mostly because of its never-dying atmosphere. (You know how some bars or clubs start going downhill after 12.30 am? At Glamour, it only keeps climbing up.) Oh, then there is that stylish M logo and irresistible postcards...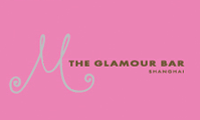 (Incidentally, I had met the designer of the M logo once through an acquaintance and we chatted over a few martinis (at Glamour of course). A young, humble and cool Chinese dude - what a great combination.)
I have now found one more reason to love Glamour - the
»Shanghai Literary Festival
.
Spanning two weeks and hosting three dozen authors from all over the world, the event was a welcome reprieve from the usual activities of checking out new bars / restaurants / exhibitions. Nursing a glass of wine on a Sunday afternoon, sitting back and listening to the Irish-accented readings by the authors, eyes occasionally darting to look out to the Bund, the event could not have been better done. I really liked observing how Glamour transforms from a glitzy late-night dancer into a subdued and refined lady of the afternoons / evenings...
Even better was the fact that Ms P and I got the tickets to the Amy Tan session at the last minute. She is a true storyteller - absolutely captivating and well-worth the 90-minute stand. From the moment she started her talk reading from the
»CliffsNotes of Joy Luck Club
("I thought CliffsNotes were only for dead authors! So imagine my horror when I found myself appearing alongside with Shakespeare in the bookstore... I just had to buy it to see what it said about me."), all were smitten by her outstanding storytelling skills. Perhaps, it is only through weaving her signature humour with the formal (in the sense of structural) art of storytelling that she is able to publicly relate the chaotic childhood she has had.
My only lament was that I could not attend the session with Dai Sijie (author of
Balzac and the Little Chinese Seamstress
) - it was in French :(
Postscript: Perhaps inspired by the Literary Festival, I went into a reading frenzy the weeks after and finished 3 books in 3 weekends. Tim Winton's
»Minimum of Two
, Marquez's
»Of Love and Other Demons
and Marina Lewycka's
»A Short History of Tractors in Ukrainian
. I highly recommend the last. It is so funny (Toshiba apples!) and irreverent ("You no-tit woman! what you doing here?") at the same time as it is so observant and poignant. Comedy and tragedy are often only a fine line apart, but very few authors have the finesse to straddle it well.