SUZHOU - Five years ago, during a break from tango class, Y had asked me what I would like from Paris. After a moment of thought, I said I wanted a postcard of the Louvre pyramids. At that time, I knew very little about I.M. Pei, only that he designed the Louvre pyramids (which invoked a greater desire in me to visit Paris than the Eiffel Tower*) as well as the Kennedy Museum that I was going to see a few days later in Boston. A photo I had taken at the Kennedy Museum later made it into the first issue of our grad student magazine, so that augured well for the start of a Pei connection.**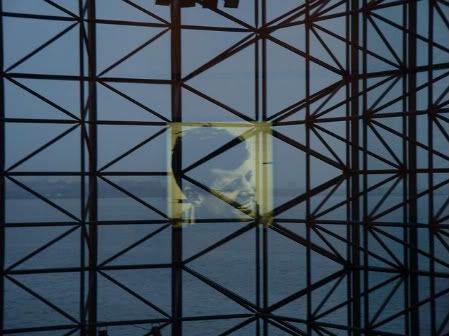 Rejuvenated from seeing the pyramids again last month, still so breathtaking even though it was my third time, I finally took the long-procrastinated trip to Pei's museum in Suzhou this weekend.
It was most brilliant use of gray I have ever seen. Single-handedly, it connects the antiquity of Suzhou and the modernity of Pei.
Next time I will pack a picnic and spend the day just looking at the gorgeous shadows.
*I had initially thought of posting a picture of the pyramids, so I poked around my photos for a street-level overview of them. I could not find a single one from all my trips to Paris. I must have concluded that it was much better to enjoy a private moment with the pyramids, than to have a menage-a-trois with hundreds of tourists.

**After coming back from Suzhou, I was delightfully surprised to know that Pei also did my favourite shopping mall and office of three years in Singapore - Raffles City. In fact, the connection can even be traced back further - it used to be my mum's office 20 years ago as well. I should have guessed from his motif of skylight, so classically and effectively used in both Raffles City and the Suzhou Museum.