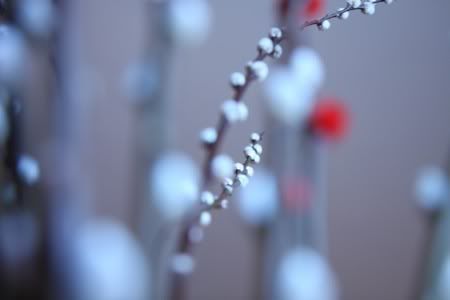 When I was a little kid, I used to pluck these furry buds off the pussy willows during Chinese New Year and keep them in my pocket. So that every time I put my hands into my pockets, I would get a nice furry feeling and smile to myself.
Needless to say, laundry time was a disaster for my mum because she would be pulling out these pocketfuls of little fur balls...
As I grew older, we somehow stopped buying pussy willows at home. My mum says that it is because they breed mosquitoes (how they breed more mosquitoes than any other vase of flowers I don't understand), so maybe she just got tired of washing pocketfuls of fur balls.
Now that I have my own home and some spare cash, I plan on stuffing my whole pocket full of fur balls. In fact, I think I will buy an extra stalk tomorrow just to pluck fur balls off them.