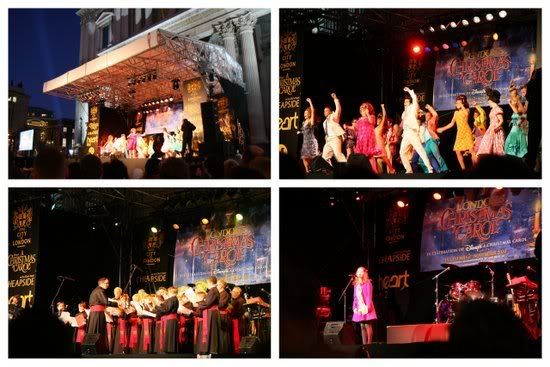 Hairspray, the 900-year-old St Paul's Cathedral choir and Faryl Smith (Britain's Got Talent).
Accompanied by wry British humour from Bob Hoskins (Who Framed Roger Rabbit) and Colin Firth ("Well I think it's all a bit tacky and over the top quite frankly, but why not? That's what Christmas is all about.").
Alright, here's the low-down: there was no lightup at St Paul's. Their idea of a lightup was to simply shine colourful spotlights on the Cathedral! The upside was that it was really easy to get home after holding out the notes of Siiiilent Night with Andrea Bocelli and a few hundred people - unlike the tremendous mess at Oxford Circus. I was even on time for yoga.