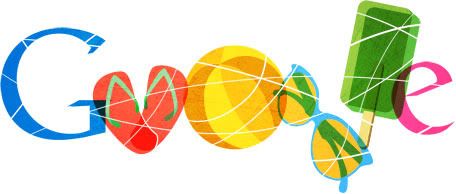 I stumbled upon the
»repository of Google logos
which is great fun to browse. I learnt that apart from celebrating holidays, artists (in the wide sense of the word), heroes (dads and mums included*) and codes (bar, braille, Morse, Unix), Google also likes elections and games (Olympics, Tetris, Pacman).
Outside of the established Western world, Japan and Turkey got their customised logos quite early on, followed by Thailand, China and even Singapore (2009 - after they set up their office here). You also see that as the official logo got more established over the years, they took more artistic liberty to venture away from the confines of its shape.
Above is the customisation for Australia Day on 26 Jan 2011.
* It is a bit annoying that mums always get just a flower, but dads get to lie in a hammock while the lawn gets mowed by the kids.