SIBU ISLAND, MALAYSIA - Who would have thought that a creature as small as this...

...has the ability to dig so much and create sand patterns as mysterious as these?
___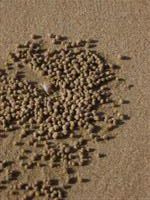 ___
May all archaeologists be equally enthusiastic diggers like the hermit crab! :D
The sun, the sea and my sandy feet

An idyllic Labour Day weekend on Sibu Island...